Mon 05 October 2015 | tags: wordpress, google cloud storage, s3, media, uploads, google, -- (permalink)
One of the big challenges with Wordpress in the cloud, is the media we upload. As soon as we upload media files, the Wordpress instance has data that isn't stored in the database. This prevents us for example having a docker Wordpress install that we can scale up as ...
---
Sat 21 February 2015 | tags: arduino, electronics, LiPo, nrf24l01, -- (permalink)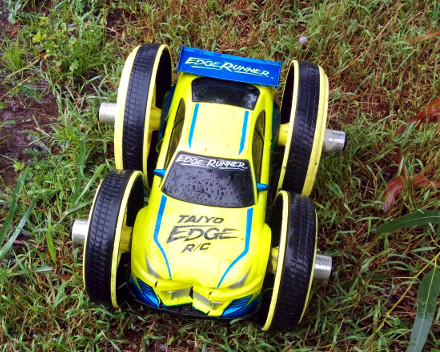 Over the last few months, I've been getting back into electronics. It's really not fair what's available now, that wasn't available when I was a kid! Arduino's for a start are a very easy way to get into microcontrollers. And with the Arduino scene has ...
---
Sat 29 March 2014 | tags: wordpress, pelican, -- (permalink)
It's been awhile since I last blogged. Since then, I've started a full time job as a Systems Administrator. This means I have less time for maintaining my own servers. So I've finally taken the plunge migrating some of the more static sites to static. For example ...
---
Sat 18 May 2013 | tags: bloat, windows, -- (permalink)
It's been some time since I've had to do some work on a Windows computer, in particular lots of software installs and uninstalls to cleanup a slow computer.
Now before you jump the gun, I'm not talking about Windows the operating system being full of bloat, although ...
---
Thu 25 April 2013 | tags: security, updates, wordpress, wp-cli, -- (permalink)
Wow. Somehow I missed when this amazing tool was released. wp-cli. Just wow.
I have a bunch of scripts I use to keep all the Wordpress installs up to date on my server, it finds all the installs, then it downloads the latest version, checks each install for the installed ...
---
Tue 11 September 2012 | tags: array, checkboxes, empty, HTML, submit, -- (permalink)
In HTML, we often use a nice feature for POSTing a form, or submitting a form, where we have lots of items the "same". In the Grase Hotspot project, we have groups for example, and we can dynamically add and delete groups, but need a complete form for each group ...
---
Tue 08 May 2012 | tags: accountservice, accountsservice, dbus, Gnome3, Linux, simplicity, unix, -- (permalink)
Today I had the joy of trying to change a users desktop environment from Gnome, to Cinnamon, via ssh. At first I thought it would be easy, change the default desktop environment in lightdm.conf and restart. Fail. Ok, so where is a users desktop environment preference stored? .dmrc, or ...
---
Sat 05 November 2011 | tags: backwards ip, belkin, reverse ip, rtkit, -- (permalink)
While attempting to remotely debug a linux machine today, I was first encountering a strange problem. Any process that took more than about 1/2 second to complete, would freeze. top, ps, lsmod, tail -f, the list goes on. For example, trying to run dmesg and display it's output ...
---
Mon 24 October 2011 | tags: Nginx, php-fpm, secure, supercache, try_files, wordpress, -- (permalink)
So recently I've been exploring the alternative world of Nginx instead of Apache, and PHP-FPM instead of mod_php. There are plenty of tutorials on the net for getting all of this setup, however not that many are up to date anymore for the Super Cache stuff. Hopefully what I ...
---
Thu 01 September 2011 | tags: ipcrm, ipcs, munin, munin-cgi-graph, semaphore, timeout, -- (permalink)
A problem that has given lots of people problems, caused me issues yesterday. I have munin using munin-cgi-graph to create the graphs on demand due to me not often viewing the graphs. A few days ago I had a server issue that caused apache to lock up (I think a ...
---
Page 1 / 4 »